Viners
Today the product categories have extended into knives and kitchenware, all beautifully designed and manufactured for food preparation challenges. Offering a wide range of styles and shapes to appeal to all tastes, Viners' products come with a guarantee of excellence and are sure to deliver that special finishing touch to any table setting.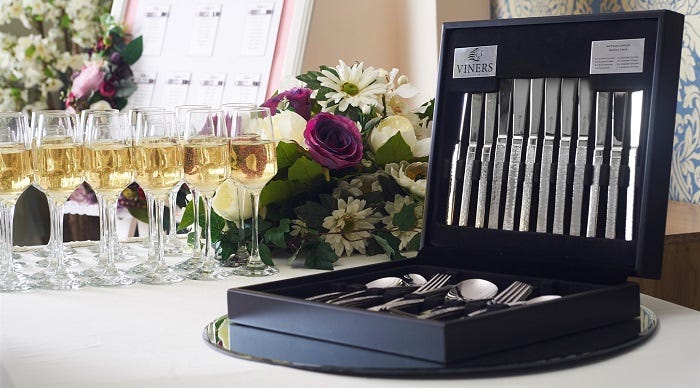 Viners History
Viners has a long and illustrious history as a family of silversmiths in the UK since the late 19th century. Establishing their first manufacturing business in 1908 in Sheffield, specialising in plated holloware, they were one of the first businesses to introduce new cutting edge production techniques.
After the First World War, Viners diversified into cutlery production and became leading cutlers within the marketplace. It was the first cutlers to utilise real marketing strategies; specifically designed packaging and advertising campaigns led to Viners being the most recognised cutlery brand in the UK.
With a clear directive for innovative design, Viners employed eminent designers to create classic designs that can still be found in homes today. The iconic Studio range still exists within its portfolio and continues to be one of the most popular and expanding designs within the range. Viners remains focused on building on its existing ranges and developing leading, exclusive designs.